Jack is a friendly and enthusiastic front loader.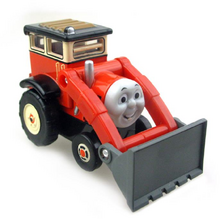 Jack
Number: 11
Built: sometime between 1963 and 1965
When Jack first came the Island of Sodor, he damaged his arms as he 'jumped in' when he tried to take some stone up a ledge but fell over, after that incident he has matured.
Jack is painted red with the top half of his cab and his wheels painted cream. He has the number 11 painted in white on his sides.
Versions
Edit